11 Las Vegas Temple Pictures: An Oasis in the Desert
The Las Vegas Temple is a hard one to miss. With its six steeples, angled shape, copper roofing, and flourishing grounds, it certainly stands out against the Nevada desert. Here are a few facts about this unique and sacred building--as well as some of our favorite Las Vegas temple pictures.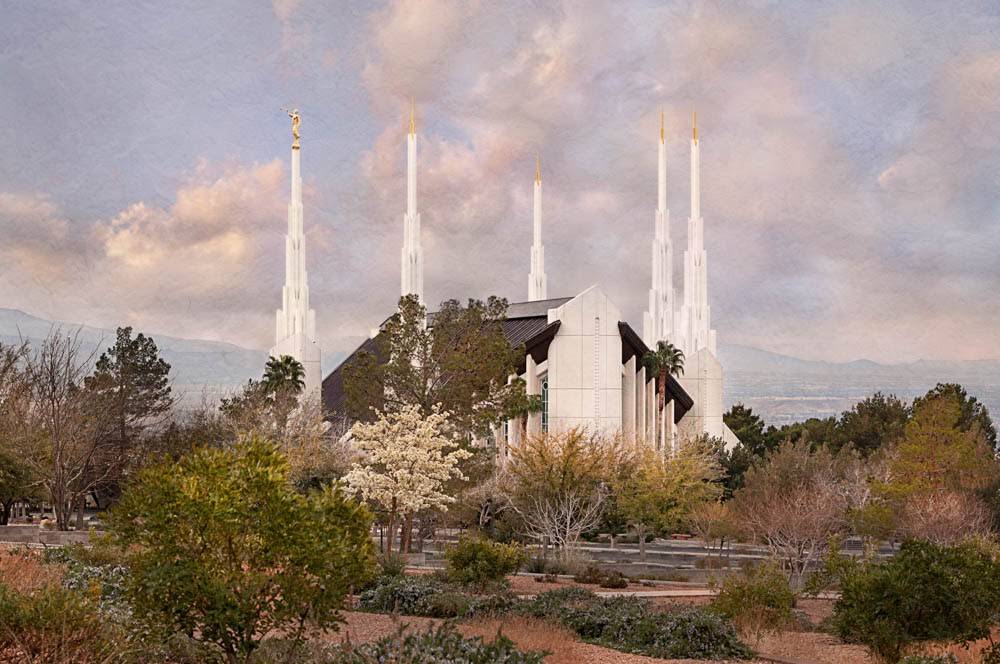 Las Vegas Temple - Holy Places Series by Robert A Boyd
How Many Temples are in Las Vegas?
Just one so far. The Las Vegas Temple is currently the only temple in the area, but that by no means gives it a small reach.
This temple provides service for many people in Nevada, as well as surrounding states such as Arizona and California.

However, it is not the only temple in the state. Nevada currently has two LDS temples; the second is in Reno. It came along about ten years after the Las Vegas temple dedication and, as you can see, has a very different architecture and layout.

When Was the Las Vegas Temple Dedicated?
The Las Vegas Temple was dedicated on December 16, 1989, by President Gordon B. Hinkley. He dedicated it just five years after its announcement on April 7, 1984.

A few passages from the dedicatory prayer read:
"It stands in this community which has become an oasis in the desert. As men have brought water to the dry earth of this region it has become fruitful, and now as a crowning jewel stands thy holy house with its surrounding lawns of green, its beds of colorful flowers, and the trees and shrubs which enhance its beauty."
"Within its walls are to be tasted the refreshing waters of living and eternal truth. For all who enter the portals of thy house may this be an oasis of peace and life and light, in contrast with the clamor and evil and darkness of the world."
Las Vegas Temple - A Light to the City by Scott Jarvie
How many square feet is the Las Vegas Temple?
The Las Vegas Temple covers 80,350 square feet. One of the biggest challenges for photographers that take LDS temple pictures is capturing the sheer size of the building.
It's not always easy to translate the grandeur into a photo, but the size of the trees in these photos can give you a pretty good idea of what it might be like to stand on the grounds.

Las Vegas Temple Pictures at Sunset
Some of the best LDS temple pictures are those taken in the desert. You can't quite beat the magic of a desert sunset, especially with such a beautiful building. Enjoy these expert shots by our photographers.

What does the Las Vegas temple mean for you and your family? We'd love to pass along any compliments or information to our artists! In the meantime, check out our website for more stunning LDS temple pictures.
0 comments