100+ LDS Art Pieces From Top Artists
At Altus Fine Art, we are proud to publish so many talented LDS artists and photographers. New and veteran artists have succesfully connected with fellow believers in Jesus Christ and their shared gifts help to illustrate scenes from the Bible, The Book of Mormon, and Church History.
Whether you are looking for something to enhance your Come Follow Me Studies, a photo of your favorite temple to hang in your home, a gift to give to a loved one, or a special piece of art to enhance your Sunday lesson, we have you covered.
Large selections of our artwork cover topics such as Joseph Smith and the Restoration. We have illustrations of Biblical stories from both the old and new testament and even a collection of paintings celebrating living the gospel in our day.
We hope you enjoy it!
20+ INSPIRING LDS ART CELEBRATING CHURCH HISTORY
The early saints sacrificed much in the way of family and lifestyle and sacrificed all in the way of material gain or comfort. Even while poor, they built magnificent temples and houses of worship. Even when injured or ailing, they found ways to serve each other. Regardless of topics that, in today's culture, are considered controversial we have much to learn from these dedicated believers of Jesus Christ. See more.
JESUS COMFORTING: 20+ IMAGES AND ARTWORK
Scriptures, ancient and modern, testify to Jesus' comforting and unconditional love.
Jeffrey R. Holland taught: "However late you think you are, however many chances you think you have missed, however many mistakes you feel you have made or talents you think you don't have, or however far from home and family and God you feel you have traveled, I testify that you have not traveled beyond the reach of divine love. It is not possible for you to sink lower than the infinite light of Christ's Atonement shines." See more.
MASTERWORKS REIMAGINED: JAY BRYANT WARD
You may be familiar with some of Jay Bryant's previous work. IIf so, you'll be excited to learn that Jay has been taking his energetic artistic talent in a unique direction. Recently, he has been working on masterworks done by the old artistic masters, from British painterAnnie Louisa Swynerton to American naturalistAbbott Handerson Thayer with still more to come. See more.

20+ IMAGES CELEBRATING WOMEN AND MOTHERHOOD
Women have had a vital role to play in the history and progress of the world. Regardless of age or marital status, women are often instruments in God's hands. They have special gifts as women and as individuals that our Heavenly Father knows will grant the power to inspire those around them or to beautify current surroundings. In many cases, a woman's intuition has led toward wholesome and courageous paths even in the face of ridicule or opposition. See more.

50+ LDS ARTWORKS ILLUSTRATING PERSONAL REVELATION
Receiving direction and assurance from God is a very personal experience. Often, it is hard to put into words. Visual arts can express that deep spiritual and emotional meaning to the mind and heart without an explanation.
Find inspiration in these scriptural-based works of art representing personal revelation and our relationship with God. See more.
JORGE COCCO: NEW PIECES, NEW INSPIRATION
Last year we introduced you to an incredible artist, Jorge Cocco. After a successful 5 month-long art exhibit in downtown Salt Lake, Cocco is more well-known and popular than ever. He has since created many new masterpieces that we are excited to share with you! But first, let's reintroduce you to the Argentinian art master, Jorge Cocco. See more.

A WALK THROUGH THE SACRED GROVE: 21 SACRED GROVE PICTURES
Joseph Smith's First Vision brought to light key truths about the nature of God and the deep love He has for His children. The event has inspired many, including our artists who have made the Sacred Grove and the First Vision a main subject matter for their LDS art pieces. See more.
JOSEPH SMITH AND THE PLATES: 9 LATTER-DAY SAINT ARTWORK PIECES
The jury is still out on whether any Joseph Smith photographs are really in existence. Several possible candidates have circulated the internet. But none have secure evidence that they indeed represent the prophet of the last dispensation.
However, other historical items and accounts give us a fair idea of what he might have looked like and, more importantly, what his character was like. Enjoy these beautiful LDS art pieces honoring this martyred prophet and servant of God, perfect for your Come Follow Me family studies or the 2021 Youth Theme. See more.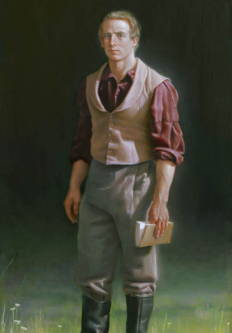 Joseph the Man by Joseph Brickey
EVA KOLEVA TIMOTHY: BYU EXHIBIT ARTWORK AVAILABLE IN OUR ONLINE STORE
Eva grew up in Bulgaria. Because of the communist environment after World War II, there wasn't much room for creative expression. Most forms of it were considered illegal. Despite that reality, her artistic father and encouraging mother wanted her to develop her talent and pursue her dream. They recognized that Eva had something worth sharing. They chose to courageously support their daughter--and we're all grateful they did! See more.