50+ Top Salt Lake City Temple Pictures For Your Living Space
Salt Lake City Temple pictures are among our largest collection of LDS Temple photos. This sacred building and Temple Square where it stands has brought a sense of peace and inspiration to countless individuals and families. It is a place where many have come to learn not only about The Church of Jesus Christ of Latter-day Saints, but also about Jesus Christ.
With the lush flower beds and dedicated buildings, Temple Square carries a quiet reverence despite being located in the middle of busy downtown Salt Lake. The grounds are kept neat and the conversation kept low. It is no wonder that some wander its grounds when feeling discouraged or seeking quiet direction from Heaven.
With Temple Square currently under construction and many other temples closed until further notice, we hope these Salt Lake Temple pictures bring the same sort of reverence and peace into your day or, better yet, into your home.
Let It Snow: 30+ Winter Pictures of LDS Temples
The winter months bring out some of the best photos of Latter-day Saint Temple pictures. The white snow, in combination with the sparkling walls, makes for a breathtaking sight. Often, LDS temples are built on hilltops, meaning that the blanket of snowfall on the grounds remains smooth and undisturbed. These kinds of locations also create a stunning variety of landscapes, from mountains to fields to city lights. See more.

11 Latter-day Saint Temple Pictures: Autumn Inspiration
The temples might still be closed, but here are a few stunning LDS temple pictures to enjoy this fall season. Something is calming about autumn, with the temperature cooling down and the leaves changing colors. It's the season of cozy scarves and warm blankets, and it's the perfect season to complement the comforting, serene feeling of the temple grounds. See more.

10+ Hopeful Salt Lake Temple Pictures: Spring Blossoms
Flowers are among some of the most memorable things about Temple Square in Salt Lake City. There is always a wide variety of cheerful colors that add to the serene setting. The flowerbeds that trim the temple grounds and visitor's center create an environment entirely separate from the surrounding city, which can help visitors find the quiet focus it often takes to hear the holy spirit. See more.

Salt Lake Temple Pictures Christmas Lights
Many individuals and families have a tradition of visiting Temple Square during Christmas to enjoy the annual display of glowing lights. However, with the Salt Lake City Temple under construction, those in charge of decorating have had to be creative in adjusting the usual display. This year may also call for some adjustments. That is why we wanted to share our collection of Temple Square Christmas lights photos! See more.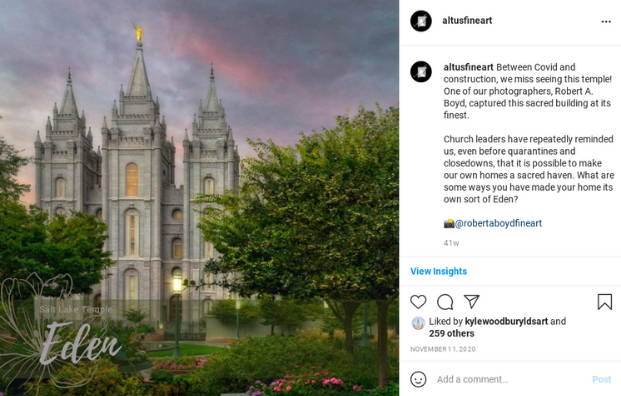 We have lots of new art coming in - Don't miss out!
And don't worry; we publish art, not spam. In line with many principles of art, we believe good things come in small doses.