We are so excited to introduce our newest artist! Although Kendal Ray is not just an artist. He's also a lawyer and a father. Yet, in between his impossibly busy schedule, Ray finds time to create beautiful paper collage artwork.
Displaying his unique collage artworks online really does not do them justice. Each piece is created from thousands of pieces of cut magazine paper. The tiny, detailed cutouts are more challenging to see, and the overall effect of their coming together is much more stunning in person. But there is much more to Ray's artwork than meets the eye, like hidden details and personal experiences, so join us on this insider's tour of his Altus selection.
Eventually, Ray and his wife put up their first "hoping to adopt" profile. At the same time, Ray began work on a new collage: Family Prayer, which was intended as a nursery piece.
Expecting a long adoption journey, Ray focused on the long wait Noah's family endured before the floods receded.
Miraculously, before the collage was even finished, they were matched with a baby boy. The collage, the nursery, and the family all came together.
Anyone familiar with the adoption process knows that it can be a long, heartbreaking process. Better than Paradise was made as a 2nd nursery piece for the family's 2nd adoption. The adoption search went on long after the collage was finished. Each hoped-for adoption that failed to work out was devastating. The collage was painfully put into storage. After nearly giving up, Ray and his wife brought home a baby girl.
At first glance, it might be hard to see the connection between the biblical creation story and something as personal and specific as adoption. Yet, the artist explains that he can relate to the sense of hardship Adam and Eve experienced when what they expected to be paradise became anything but. Yet, in the end, the miracle of family shone through. In the end, the meaning and purpose they found outweighed any of the hardship.

Ray is talented in a variety of art mediums. He has completed paintings, scratch art pieces, and even a book of poetry. Yet, he finds that collage work–an art form he first discovered as a high schooler–sticks better with him. It gives him a chance to slow down amid the busy nature of his career.
Unlike other art methods that he finds himself rushing to complete, paper collages require much of his time and focus. It's a lot of planning, matching the perfect color tones of cutouts, and pondering on the insights that come to him as he completes each collage. Because with collage work, each piece can be final. Unlike painting, it does not require various stages and layers to accomplish the right look. This means that every cutout is important. As a result, each one of Ray's collages gets a lot of attention from the artist and each carries stories and insight.
As mentioned earlier, each of Ray's pieces carries hidden details and personal stories. The nature of a collage opens new creative doors for weaving important themes or even historical events into an art piece.
For example, each of Ray's collages includes a small piece of Van Gogh's paintings. This detail from The First Vision includes several:
Here are just a few more of the hidden gems within his artwork.

Ray draws much of his inspiration from his own family. He has had a lot of experience with adoption, some more hopeful than others. But with "Baby on Board", he wanted to focus less on the storms and more on the miracles.
Here, he illustrates an account in the Book of Mormon in which the Brother of Jared and his people are commanded by God to build enclosed ships to cross the sea to a promised land. It is a story of faith. As such, it is easy to put the focus on the raging winds and waves that brought the people to their destination.
However, Ray takes a different approach, highlighting the verses that recount the joy that the people experienced along the way:
"And they did sing praises unto the Lord; yea, the brother of Jared did sing praises unto the Lord, and he did thank and praise the Lord all the day long; and when the night came, they did not cease to praise the Lord" (Ether 6:9).
This piece, originally created to grace the nursery of a close family member, reminds us that the path of discipleship does not have to be drudgery. There are many miracles and much joy along the way if we allow ourselves to see them.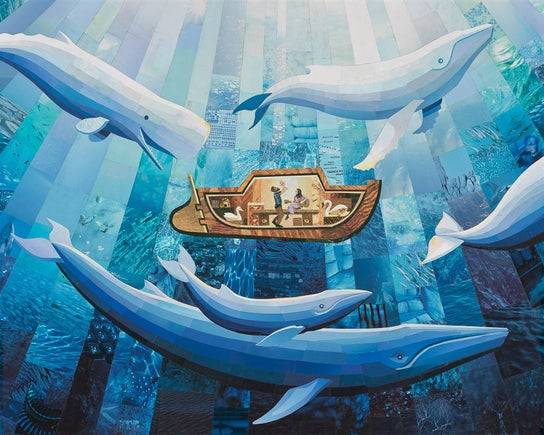 Baby on Board by Kendal Ray
With collage work, each piece can be final. Unlike painting, it does not require various stages and layers to accomplish the right look. This means that every cutout is important.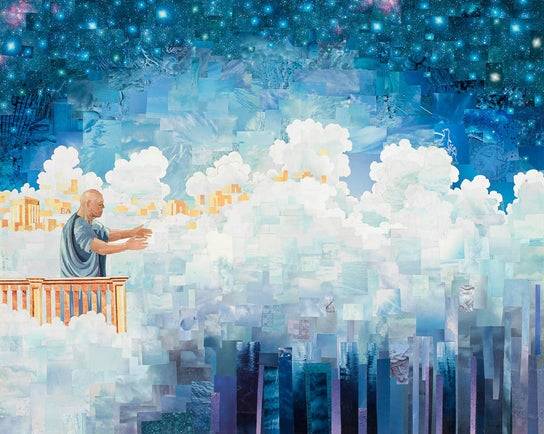 City of Enoch by Kendal Ray
"City of Enoch" illustrates a hopeful story. It's a story with a happy ending in that the people within the city of Enoch are rewarded for their loyalty to God and their goodwill toward each other. Because of their righteousness, God takes the entire city unto Himself, meaning that these wonderful people no longer have to deal with the everyday sorrow and stresses so many
of us are familiar with.
Yet, Ray includes within the collage several somber cutouts. For example, in the blue section near the bottom, there is a child's drawing. The simple crayon drawing shows a man with a gun outside the child's house. It was an illustration of what the child, who had experienced extreme violence. The artist included this drawing to illustrate–even in the picture of a city being exalted– Heaven weeping.
It is not just an artwork of a biblical event. It is an illustration of the sorrow God experiences when His children are so harsh to each other that they cannot dwell in peace. Perhaps Enoch's city would not have to be taken away at all if the world were a different place. But there is still hope. And you'll find it in a small cutout of Christ's face amid the deep blues of Heaven's tears.
Moving forward, Ray looks forward to creating many more biblical pieces, particularly from the Old Testament. He finds these stories much more interesting from an artistic perspective. With the spiritual insight and family connection that he brings to each artwork, we are excited to see what he comes up with next!
So stay tuned! You can visit Kendal Ray's artist page to view his most current collection here at Altus.
More blogs you might like:
We have lots of new art coming in - Don't miss out!
And don't worry; we publish art, not spam. In line with many principles of art, we believe good things come in small doses.