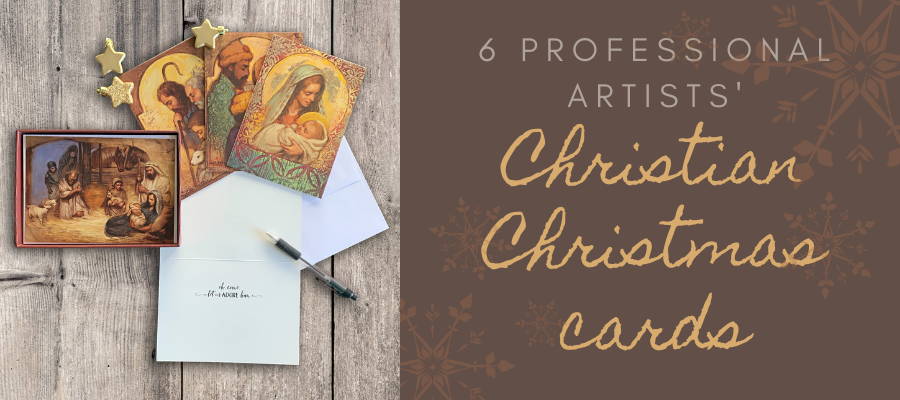 Christian Christmas Cards by 6 Professional Artists
Did you know letters and Christmas cards are a rising trend? With so many families and friends separated by the effects of covid-19, tangible, unexpected greetings like cards and letters have been found to bring more warmth than even scheduled video visits. Christian Christmas cards are the perfect way to connect with family members, especially the ones who cannot be home for the holidays.
Celebrate the reason for the season with these eight boxed sets of Christ-centered Christmas greetings.
Annie Henrie Nader Christian Christmas Cards
Annie's art, even outside of the holiday season, is full of warmth. Her gift for touching scenes, calming colors, and narrative expressions carry a sense of peace. Annie's LDS art has become some of our most popular, especially when people are looking for an image that bring comfort and healing.
Wish you could send your loved ones a big, warm hug? Annie's Christmas cards, paired with a thoughtful, handwritten note, are the perfect remedy.
Simon Dewey Christian Christmas Cards
Simon Dewey is one of Altus' founding artists. Not surprisingly, he has a wide selection of LDS art and Christian Christmas cards from which to choose.
Simon's art is known for its flawless flow of colors and its clean textures. His scenes are crisp but still carry a gentle softness in the expressions, settings, and even fabrics he portrays in his works. His paintings of Jesus Christ are stunning.
If you are looking for the sort of Christian Christmas cards that are so pretty they can add to the holiday decor, look no further.
Kirk Richards Christian Christmas Cards
J. Kirk Richards is another well-known LDS artist. His contemporary spiritual art is known for its Judeo-Christian themes, sense of mystery, and varied textures. Not only is he successful in his work, but he is also an effective teacher for up-and-coming professional artists.
Kirk's Christian Christmas cards are inspiring as well as unique. They will add a classy, timeless touch to your holiday greetings.
Jorge Cocco Christian Christmas Cards
Jorge is an eighty-year-old artist who hails from Argentina. But don't let his age fool you. Each piece of his art is full of color, angles, and energy. In his artistic career, he has studied cubism at length and termed his personal style sacro-cubism since he uses this challenging art style to portray scriptural events and spiritual themes.
His LDS art is modern and full of layered meaning. Send these one-of-a-kind artistic cards to loved ones for a surprising and unique Christmas greeting.
Jay Bryant Ward Christian Christmas Cards
Jay's portraits of Christ make up many of our best-selling images. He has a gift for capturing not only the compassion of our Savior visually in his LDS art but also for extending that feeling out to the viewer. It is no different with his Christmas art. It invites us to pause and remember what matters most in our lives. It reminds us that our loving Savior is still at the helm.
After such a challenging year, Jay's Christian Christmas cards will bring an uplifting message of hope to your friends and family members.
Joseph Brickey Christian Christmas Cards
Joseph is known for his LDS art paintings as well as his sketches. This set of Christian Christmas cards features the latter, more particularly a scene of the wise men following the star to find the infant Jesus Christ. Included in the design is a short quote: "Wise men still seek Him."
The simple style and colors of this picture, together with this profound sentence, bring a message of peace. It reminds us that Jesus Christ can still be an active part of our often too-busy lives. If we seek Him then we, like the biblical wise men, won't regret the journey.
What to Write in a Christian Christmas Card in 2020
The more you personalize your Christmas greeting, the more meaningful it will be. Remember that prose and spelling do not matter near as much as the greeting itself. After all, you're not sending poetry off to be published; you're sending a little bit of yourself to someone who already knows and loves you.
While everyone is different and we can't tell you exactly how to put yourself into a short message, here are a few ideas to get you started:
Pastor, Bishop, or Church Leader
Christmas is a perfect time to thank your church leader for their service throughout the year. Many people are busy during the holiday season, especially pastors, bishops, and other ecclesiastical leaders. They are often working to make the Christmas season meaningful to their congregation or to seek out service opportunities.
Consider also including a favorite scripture. It doesn't have to be Christmas-themed, just one that is meaningful to you or your family. A short, sweet message of thanks and well wishes to the individual and their family will be more appreciated than you may realize.
Similarly, it's best to keep these Christmas cards simple and professional. Whether or not your coworkers share your religious beliefs, a Christian Christmas card can be meaningful. You are sharing something that brings hope and direction to your life, and there's a very good chance your coworker will genuinely appreciate the gesture.
Here you can also include a favorite scripture or simply well-wishes to them and their family. You might congratulate them on professional achievements throughout the year or thank them for their help on a difficult project.
When sending Christmas cards to friends and neighbors, there's a little more room for personalization. You might include fun inside-jokes, memories, or anything else you think might brighten their day.
Along with a scripture verse, you might consider sharing a spiritual insight you've learned this year. Maybe you think your friend or neighbor is an inspiring example of a spiritual attribute. Or you might share gratitude for the simple things they may have done throughout the year and talk about future celebration plans for when we can gather in larger groups.
Families come in all different shapes, sizes, and circumstances. While some relationships are more challenging and complex than others, a Christian Christmas card can introduce your message with the right spirit.
Choose an art piece that you know would be meaningful to a family member. When it comes to family, your message can be long or short. Sometimes just the gesture of taking the time to send something can bring hope and healing, especially if it is spiritual.
If your family is close-knit, consider also sending doodles from the kids or photos of fun memories throughout the year. While you may be unable to catch up physically, this can be a fun and more lasting way to fill family members in.
If you are sending a Christmas-card to a significant other, then chances are you are far enough away from each other that it hurts. A religious-themed Christmas card is the perfect chance to communicate in a way not always done over text or video chat.
You can use this as an opportunity to express deeper feelings and convictions or to reminisce on challenges and memories throughout the year. This doesn't mean you have to wax sappy if that's not your style. But sometimes simply acknowledging some of life's less casual things can help to deepen a relationship, even when doing it long-distance.
In the end, what families and friends will want is a message from you, especially during this time of social distancing. There is something about art that carries a more meaningful message than we may know how to put into words. These cards can help you add inspiration, hope, and peace to your holiday greetings this year.
Are there artists whose work you would like to see in LDS Christmas card form? Let us know in the comments!
We have lots of new art coming in - Don't miss out!
And don't worry; we publish art, not spam. In line with many principles of art, we believe good things come in small doses.