Eva Koleva Timothy: BYU Exhibit Artwork Available in OUr ONline Store
We are so excited for our artist Eva Timothy! Having work featured in the BYU art gallery is a notable accomplishment for any artist, but it's especially significant for Eva whose background made being an artist a real and even dangerous challenge.
Eva grew up in Bulgaria. Because of the communist environment after World War II, there wasn't much room for creative expression. Most forms of it were considered illegal. Despite that reality, her artistic father and encouraging mother wanted her to develop her talent and pursue her dream. They recognized that Eva had something worth sharing. They chose to courageously support their daughter--and we're all grateful they did!
Here are some of the beautiful Eva Timothy art pieces of Jesus Christ and His life that are on currently displaying in the BYU gallery: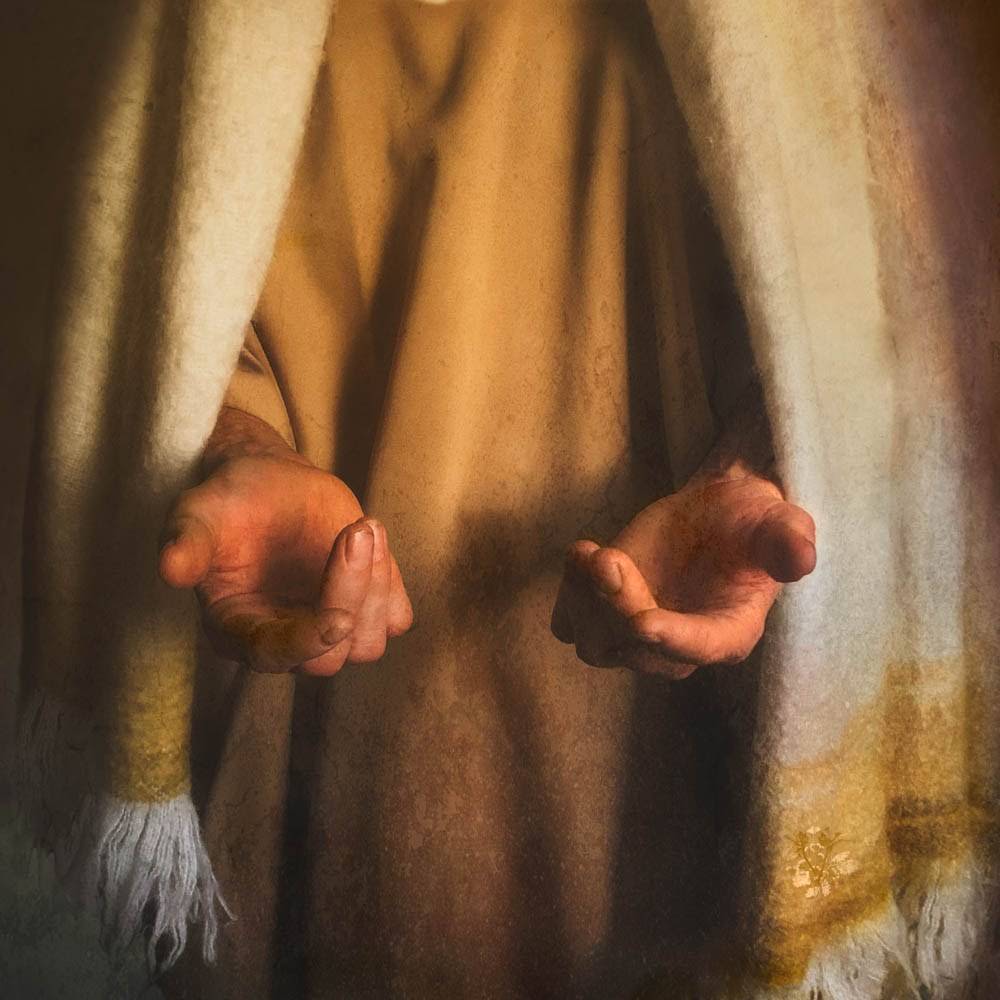 Come Unto Me by Eva Koleva Timothy
Eva Timothy's art, in a word, is calming. She often chooses warm, gentle colors especially for her paintings of Jesus. In this piece, Christ reaches out to us, the marks of His sacrifice evident, He invites us to come to Him and to trust Him.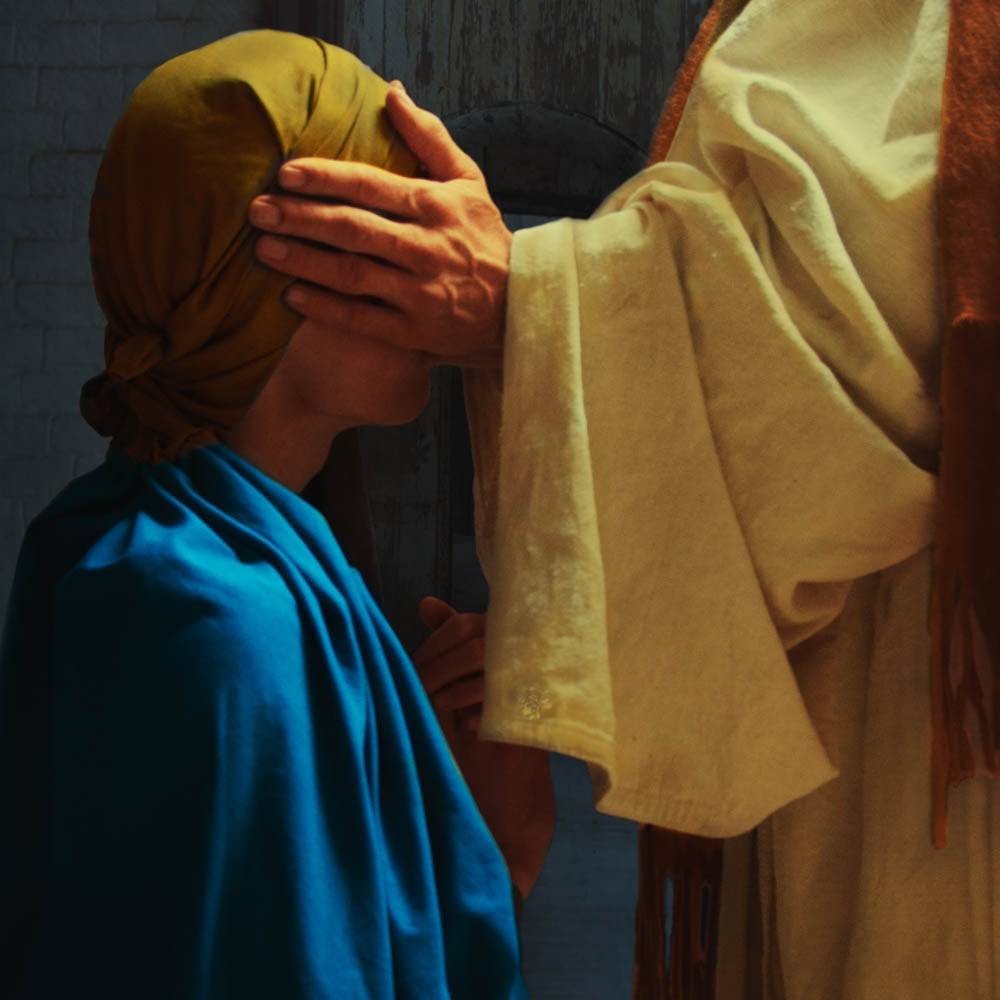 NOw I see by Eva Koleva Timothy
The New Testament records Christ healing the physically blind. Yet, sometimes the greater miracle is curing deeper forms of blindness that we all have. The title of this piece tells of the relief and understanding that comes when we allow Christ to change our hearts.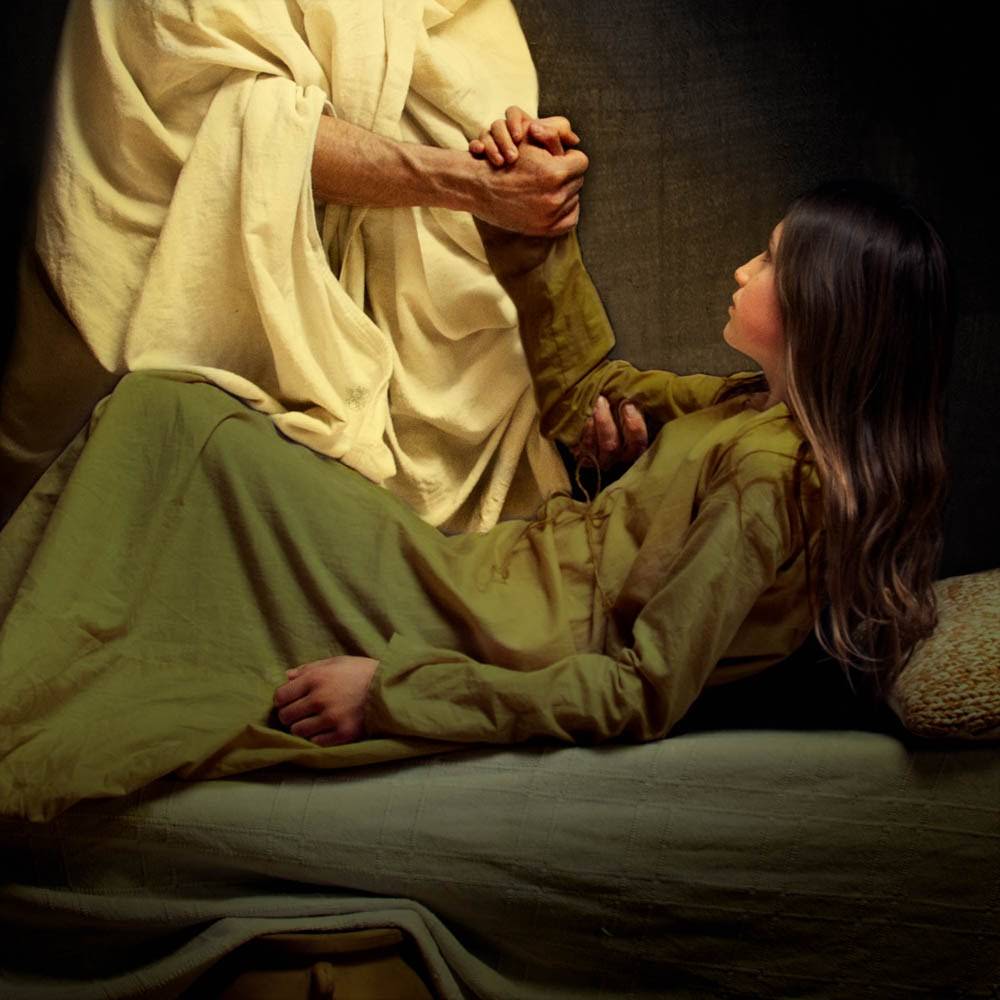 Talitha Cumi by Eva Koleva Timothy
Talitha Cumi is the phrase Christ uttered when healing a young girl in the New Testament. It means: "I say unto thee, Arise." Eva Timothy's choice of green in the girl's dress symbolizes a sense of new life, which is what Christ offers us if we choose to follow that same invitation and become more than what we already are.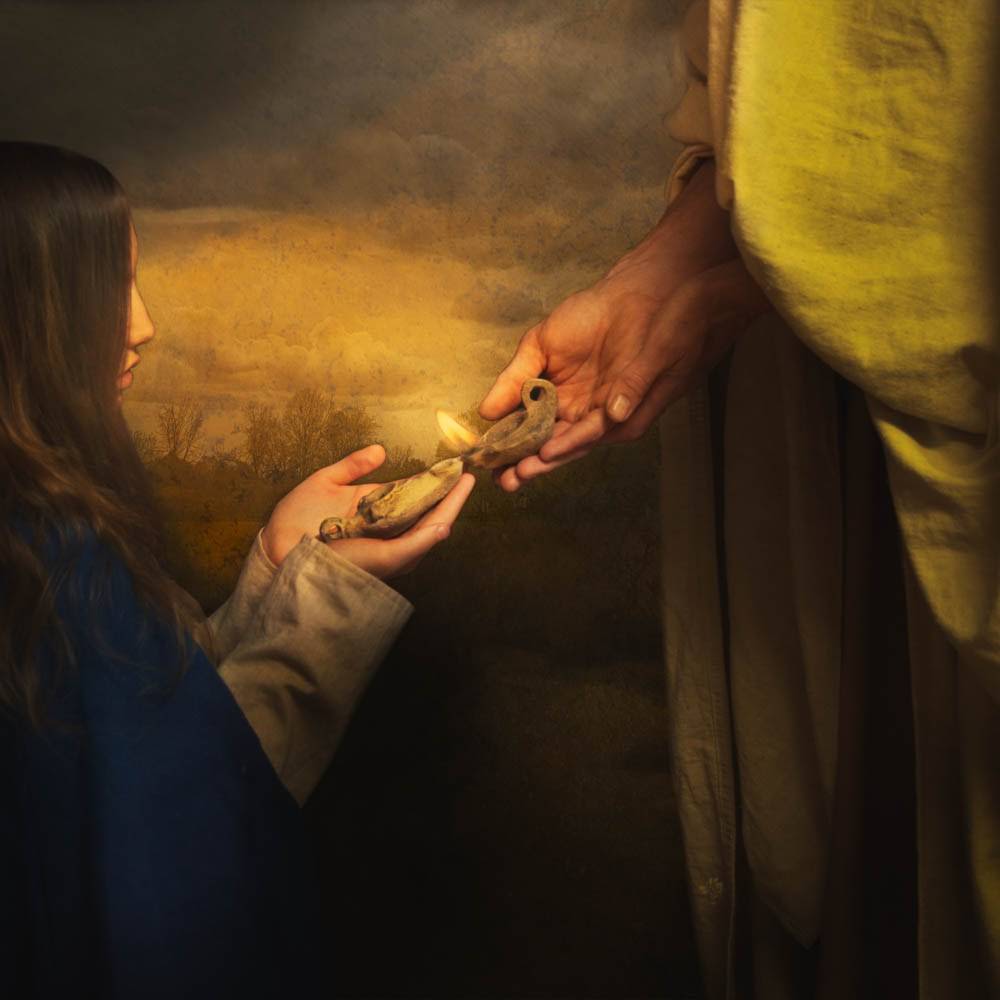 A gift of light by Eva Koleva Timothy
In the October 2012 conference, Elder David A. Bednar taught that: "Seeking for and obtaining a testimony of spiritual truth requires asking, seeking, and knocking with a sincere heart, real intent, and faith in the Savior.
In other words, spiritual truth isn't something we can obtain on our own. It's a gift from God. Eva captures this idea, using the oil lamps described in the parable of the ten virgins. The sooner we obtain spiritual truth, the more prepared we will be against today's challenges.
Racing to an empty tomb by eva koleva timothy
A lot of LDS art beautifully captures the morning of the resurrection, but few illustrate the wonder of the apostles as they rushed to see the risen Lord. The urgency in this painting is almost contagious with all the movement we see in the cloak. That's part of what makes this piece of Eva Timothy's artwork so compelling.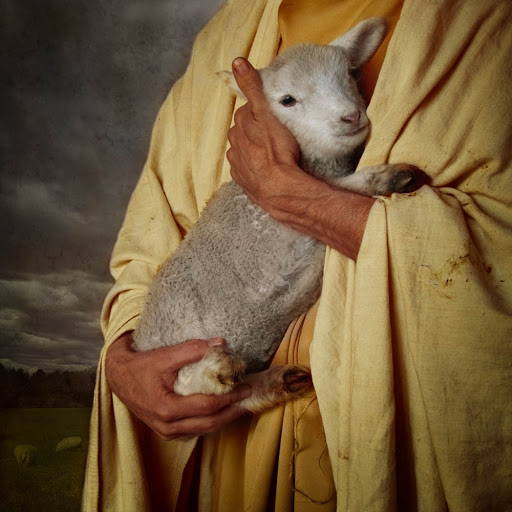 The good shepherd by eva koleva timothy
The Good Shepherd is an interesting painting because it focuses less on the shepherd and more on the lamb He is holding. It suggests that the definition of "good shepherd" has less to do with a title and more to do with how safe the sheep in his care feel. Eva's unique approach touches the emotion of what a good shepherd is rather than the definition.

Lord, Save me by Eva Koleva timothy
This is another popular topic in LDS art. Again, the focus is more on the rescued individual. The calm strength of the Savior contrasts the overwhelming waves and the desperate angle of Peter's arm. It's a beautiful reminder that we can never sink deeper than the Savior can reach.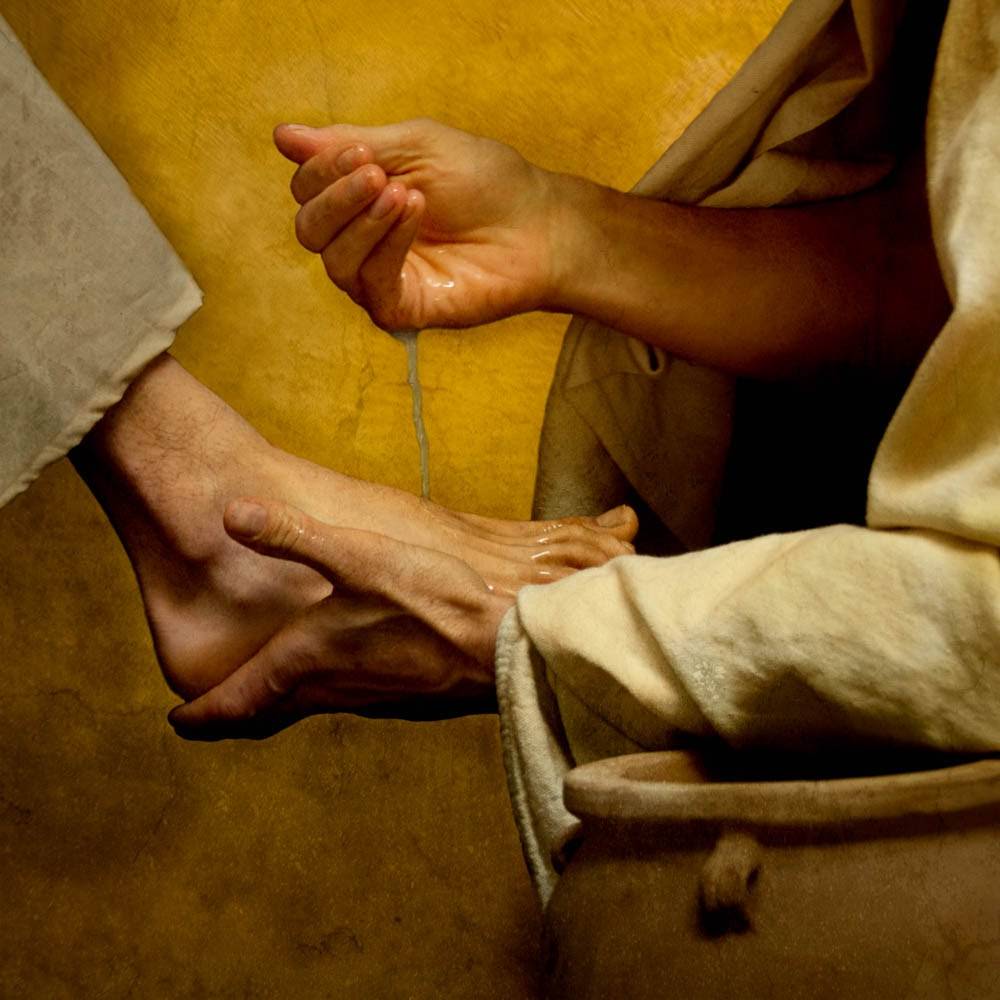 As I have loved you by eva koleva timothy
One of the most touching accounts in the New Testament is when the Savior, in one of his last moments, washes the apostles' feet. He taught them:
"If I then, your Lord and Master, have washed your feet; ye also ought to wash one another's feet. For I have given you an example, that ye should do as I have done to you."
Eva reminds us through her work that it's not enough to become clean through Jesus Christ. We must then help those around us receive the same healing and joy.
"If I then, your Lord and Master, have washed your feet; ye also ought to wash one another's feet. For I have given you an example, that ye should do as I have done to you."

How Beautiful Upon the Mountains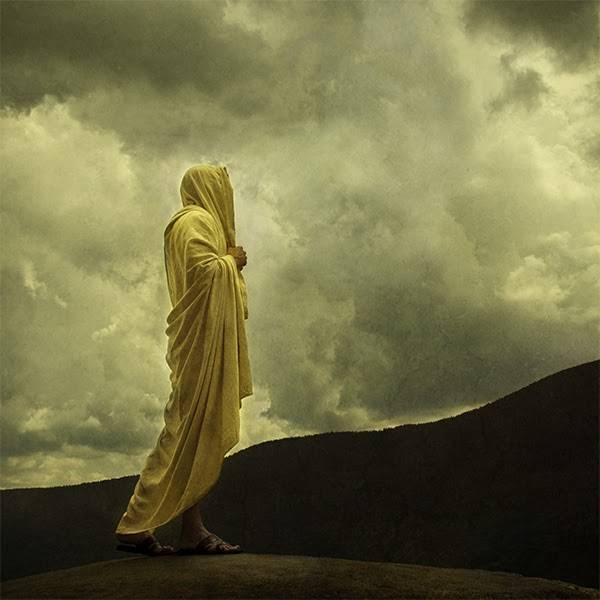 How beautiful are the mountains by eva koleva timothy
This painting of Jesus Christ was inspired by Isaiah 52:7-10, which begins with:

"How beautiful upon the mountains are the feet of him that bringeth good tidings, that publisheth peace; that bringeth good tidings of good, that publisheth salvation; that saith unto Zion, Thy God reigneth!"
Interestingly, Eva's Timothy's art does just that, publishing good tidings and sharing the message that Christ is the light of the world.
The Waters That I Shall Give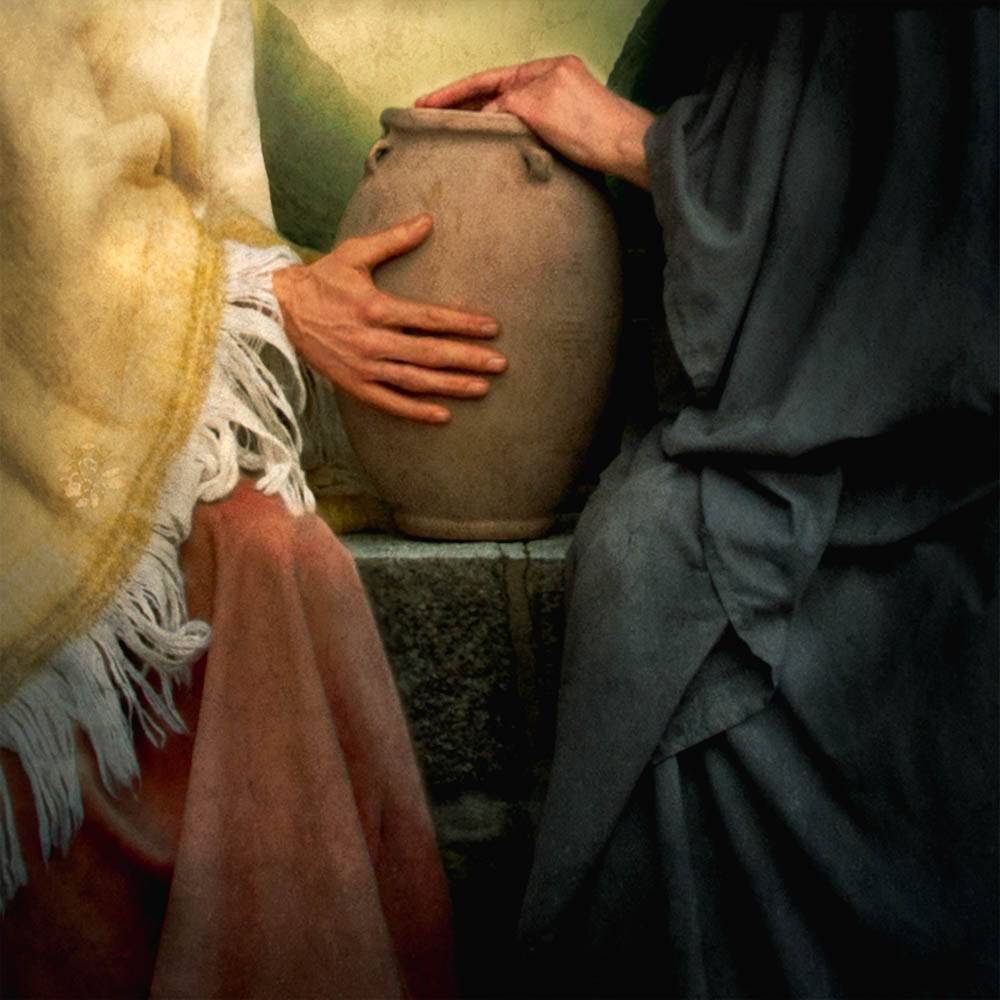 The water that I shall give by eva koleva timothy
We do not see the face of Christ or the woman at the well in this piece. Instead, the image draws our focus to the vessel of water. That is, after all, the focus of the story. It is not the woman's circumstances, her sins, or even her physical thirst. But the reality that Christ and His truth is the living water that all of us need to keep our spirits replenished.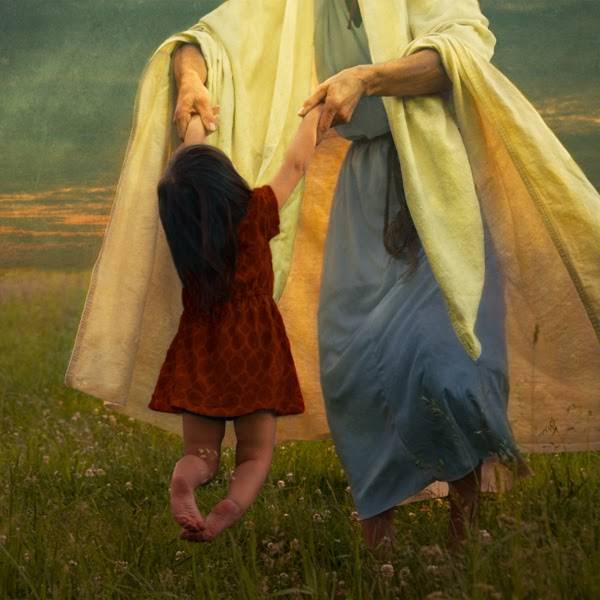 as a little child by eva koleva timothy
This playful piece is unique when compared with Eva's more somber images of Christ. With the sense of motion and field of flowers, it represents the innocence of childhood. The girl in the painting shows complete trust in the Savior, which is likely what he meant when He taught to "become as a little child."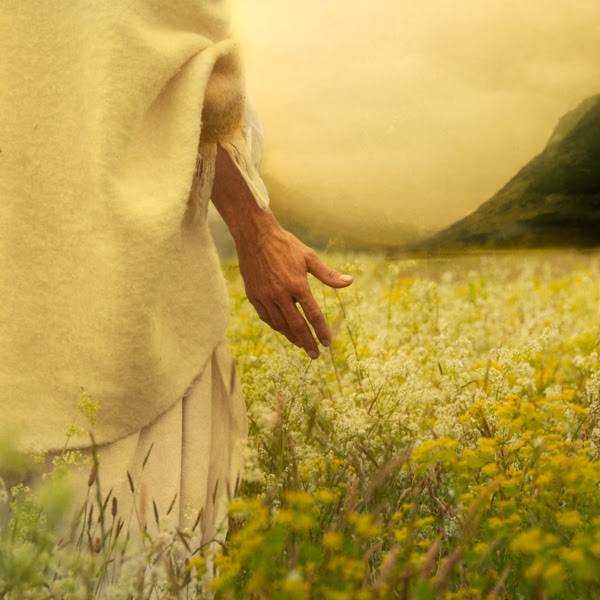 Consider the Lilies by Eva Koleva Timothy
The Savior often used images from everyday life in His messages, such as nature or common occupations of the time. In this painting, we see the lilies--typically a small, common flower--portrayed beautifully in all their detail.
"If then God so clothe the grass, which is to day in the field, and to morrow is cast into the oven; how much more will he clothe you."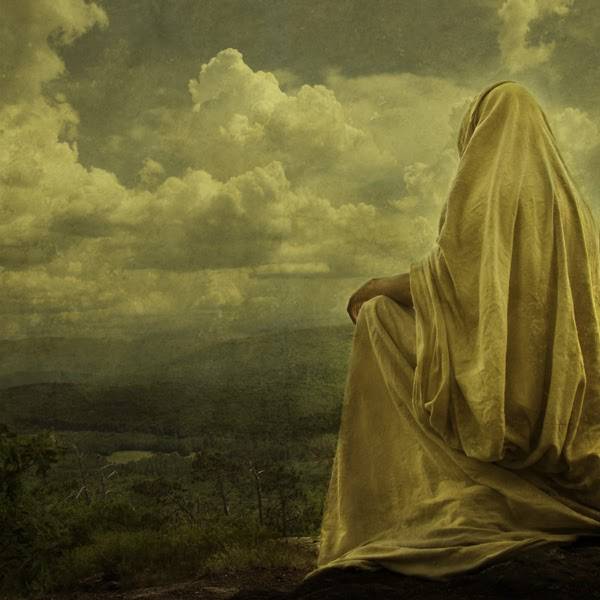 Reflecting on Creation by Eva Koleva Timothy
The scriptures teach us that Christ not only redeemed the world; He created it. Eva does a masterful job capturing the landscape, and especially the clouds. The light shining down onto the scene tells of the hope we can find in Christ, who also overcame the world.

In the Beginning was the Word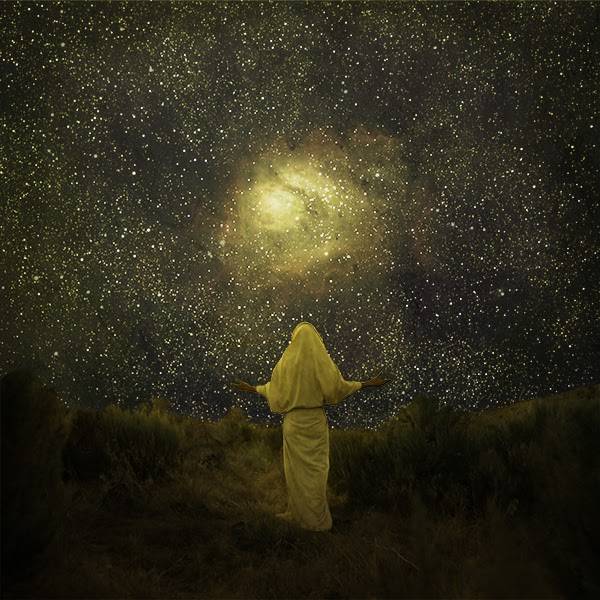 In the Beginning was the Word by Eva Koleva Timothy
Similar to the previous painting, this piece of LDS art by Eva is a reflection of Christ's role as the Creator. It's easy with today's challenges to get caught up in everyday struggles. However, artwork like this reminds us to see the bigger picture. God is in control and has been from the beginning. We can trust His plan for us as His children.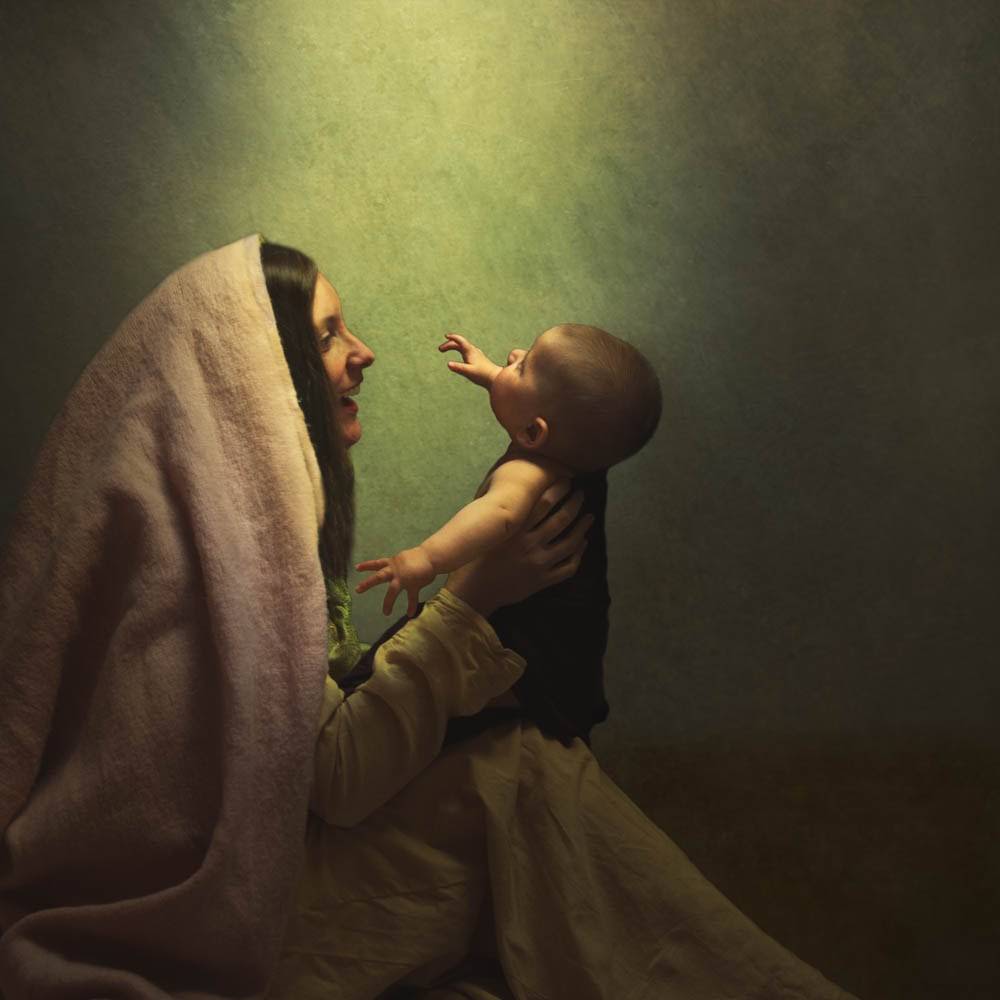 Unto us a son is given by Eva Koleva Timothy
Included in Eva's paintings of Jesus is a nativity scene. We see the mother Mary lovingly holding the infant Christ who, even from the beginning, looks to His Father in Heaven. It's a beautiful piece that captures both the joy of motherhood and the divinity of Jesus Christ.

Eva Timothy's work will be on display in the BYU Gallery until December 18, 2020. Don't forget you can always find these and other artworks of Eva in our LDS online store. Visit our site to purchase her artwork as decor for your home or gift items for the holidays.
Were you able to visit Eva's exhibit? Which was your favorite artwork?
We have lots of new art coming in - Don't miss out!
And don't worry; we publish art, not spam. In line with many principles of art, we believe good things come in small doses.