15+ Best Ogden Temple Pictures For Your Home
The Ogden Temple is the fourteenth LDS temple to be dedicated, making it one of the first five functioning temples in the state of Utah. It was also one of the first temples to be built among other city buildings such as businesses. This kind of planning and placement symbolizes the importance of temple ordinances in our day-to-day lives.
The first dedicatory prayer was given on January 18, 1972. As with all LDS temples, the Ogden temple dedicatory prayer includes unique promises and praises of thanksgiving. This prayer is overflowing with expressions of humility and love toward Jesus Christ and God the Father. One passage proclaims:
"O God, our Heavenly Father, we have no words to express our gratitude to thee for all thou hast done for us and for all mankind. Hallowed be thy name forever! And may we worship thee in spirit and in truth and signify our love for thee and thy work by keeping thy commandments!"
The more recent dedication, which was done on September 21, 2014, carries a similar theme:
"This beautiful temple has been a haven of peace. It has served well. Showing the effects of such service, it became necessary to renovate and improve it. We are grateful for this long-awaited day of rededication, when the renovations have been completed."
We hope you enjoy these inspiring pictures of this sacred place of worship.
Ogden Temple Pictures: Garden
The wide stretch of flowering grounds at the Ogden Temple invites a sense of serenity and calm to all who visit. A smooth pavement path leads around full hedges and colorful flower beds. As with all LDS temples, the building and grounds were both designed with Heaven in mind. Such a peaceful and quiet setting gives the mind a break from the busy day-to-day, helping to remind of what's most important.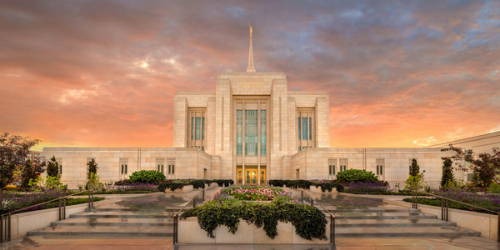 Ogden Temple - Garden Panoramic by Robert A. Boyd
Ogden Temple Pictures: Fountain
The Ogden Temple grounds also have a beautiful fountain and reflection pool. This wide, circular water feature adds to the calm and peace already present among the immaculate lawns and full flowerbeds. Additionally, it brings to mind the scriptural metaphor Jesus Christ used when describing His teachings: living water.

Ogden Temple Pictures: Sunrise and Sunset
Sunrises and sunsets make the best LDS temple photos. The white walls of the temple create a stunning contrast to oranges, yellows, and pinks. We love these four photos of the Ogden Temple for the different views and perspectives the three photographers take to their subject. Which one is your favorite?

Ogden Temple Pictures In Spring
The Ogden Temple grounds are gorgeous in the spring. The grass is lush and full and the flowers begin to bloom. It seems to symbolize what the temple itself stands for: hope. All of us face trials and difficulties. Visiting the temple, even if that means just walking around the grounds, can remind us that there is more to this life is not the end. Jesus Christ's resurrection proves that. He can take our mistakes and tragedies and turn them to our good

Ogden Temple Pictures In Summer
We love LDS temple pictures taken during the summer. They are bright and cheerful. The warmth and light seem to give us a small glimpse into what Heaven might feel like. The bright blue of the sky and deep greens of the grounds are inviting, reminding us that God welcomes us as we are and that He intends to help us become even better.

Ogden Temple Pictures In Fall
The state of Utah has beautiful autumn seasons, especially near the mountains where the landscape becomes blanketed with warm shades of reds, greens, and yellows. While the Ogden Temple is in the heart of the city, these two pictures capture some of the calm that accompanies autumn melting into winter.

Ogden Temple Pictures In Winter
Perhaps some of our favorite LDS Temple pictures come from our collection of winter shots. These Ogden Temple photos are no exception. Talented photographers Robert Boyd and Kyle Woodbury have done a masterful job at capturing these winter scenes that reflect not only this special time of year but also the symbolism of purity we often associate with freshly fallen snow.

We have lots of new art coming in - Don't miss out!
And don't worry; we publish art, not spam. In line with many principles of art, we believe good things come in small doses.