Lead, Kindly Light, Amid Encircling Gloom - Art by Simon Dewey
Jesus Christ is the way. He repeatedly taught this truth even in the face of ridicule, accusation, and eventually death. He suffered for our sins and rose again from the dead, clearing the barriers standing between us and Heaven. Christ made the way possible not only by what He did for us but also by the example that He set throughout His earthly ministry.
As He taught: "I am the light of the world: he that followeth me shall not walk in darkness, but shall have the light of life" (John 8:12).
Putting Our Trust in Christ
The modern times that we live in are full of technological miracles. But it is also rife with darkness and confusion. Contention is rising in families, individuals struggle to find identity and purpose, mental illness in children and youth is on the rise, and many live in fear.
Like the early apostles tossed about in their boat on the sea late at night, it is easy to feel powerless and overwhelmed. We may feel like God is sleeping. Yet, just like them, we can call to our Savior and trust in His saving power. He may not immediately calm the seas around us, but He can bring peace to our minds and our hearts. He can give us the direction that we need to continue forward.
Just as the Psalms happily proclaim: "He maketh wars to cease unto the end of the earth; he breaketh the bow, and cutteth the spear in sunder; he burneth the chariot in the fire. Be still, and know that I am God: I will be exalted among the heathen, I will be exalted in the earth" (Psalm 46:9-10).
Lead Kindly Light Meaning
The scriptures teach us that Jesus Christ has already overcome the entire world. Surely, He can give us the peace of mind and the strength to overcome our individual world or experiences.
That is the message masterfully illustrated in Simon Dewey's popular piece, "Lead Kindly Light". The painting's name comes from a beloved hymn with the same title. It is a song of worship that describes the process of letting go of our understanding to trust God's grander view.
As the first verse reads:
"Lead, kindly Light, amid the encircling gloom;
Lead thou me on!
The night is dark, and I am far from home;
Lead thou me on!
Keep thou my feet; I do not ask to see
The distant scene—one step enough for me."
In this painting, we see Jesus standing on a winding pathway. We cannot see the details of where the path leads. Darkness obscures the surroundings. Yet, Jesus stands before us with a welcoming expression. He holds a glowing lamp in one hand and beckons for us to follow with the other.
Many of us may relate to this situation in one way or another. God asks us to trust Him, yet the road ahead does not appear to make sense to our current viewpoint. It is the point where doubt enters, and faith must come into play.
Get "Lead Kindly Light" In All Formats
We are grateful for Simon's insight and talent, as this painting has already brought comfort and peace to many. You may have already seen it online or while scrolling through social media, but did you know we have it in other formats?
Unlike many other paintings, we have created likenesses of "Lead Kindly Light" in posters, puzzles, calendars, and even small statues.
At Altus, we strive to make quality art accessible in any way we can. We believe that art can connect us to something greater than ourselves, regardless of how much available wall space we own. Enjoy our selection of Simon Dewey's "Lead, Kindly Light".
Come Follow Me sticker Set Pack of 30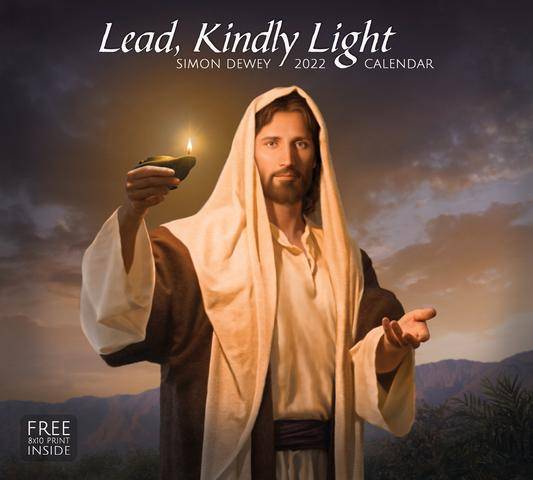 2022 Simon Dewey Calendar - Lead, Kindly Light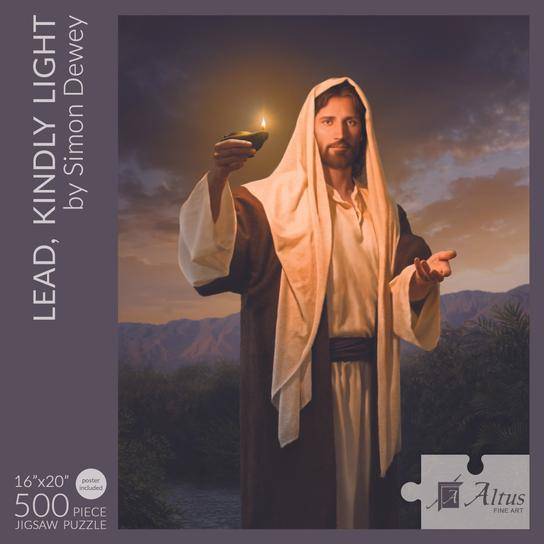 Lead, Kindly Light 16x20 Jigsaw Puzzle 500 Pieces
We have lots of new art coming in - Don't miss out!
And don't worry; we publish art, not spam. In line with many principles of art, we believe good things come in small doses.