6 San Diego Temple Pictures: Stepping Into a Fairytale
Dedicated on April 7, 2993, the San Diego California Temple is perhaps one of the most recognizable LDS Temples. Its many spires, pristine walls, and rows of immense windows make it the picture of a fairytale castle. The lush gardens, native to the California landscape, add color to this picture with deep greens and bright blossoms.
LDS Temples often serve as a place of peace and refuge, even for those strolling the grounds. This is especially true for the San Diego California Temple; despite being just off the highway, this sacred building creates a sense of quiet serenity. It is the perfect place to sort through one's thoughts and reverently seek Heaven's aid.
San Diego Temple Dedicatory Prayer
The eternal promises included in San Diego Temple dedicatory prayer are just as beautiful as the grounds they bless. For example, the prayer asks a blessing not only on those who visit the temple but even those that drive past. It petition's Heaven's aid in helping even those rushing to work or completing errands to experience peace.
"To the millions who will see it as they move swiftly over the adjacent highway may it be a thing of singular beauty from which shall emanate a spiritual glow that speaks of peace and goodness. May all who enter these portals come with clean hands and hearts, and minds free from the stain of the world. May they find within these walls a refuge from the noise and stress of the world. In their seasons of trouble, wilt thou here whisper peace and direction. May they come with glad expectation and leave rejoicing in the spirit found in this dedicated sanctuary."
Earlier on, it also petitions aid for countries around the world: "Strengthen the cause of freedom among the nations of the earth." The Church of Jesus Christ of Latter-day Saints has members the world over. Many come from a variety of nationalities and backgrounds. This dedicatory prayer, as well as the growing number of temples across the globe, indicate that God cares for all of His children.
San Diego Temple Pictures
That all said, it probably goes without saying that San Diego Temple pictures are always stunning. The San Diego Temple grounds are displayed especially masterfully when captured by our professional artists and photographers. For this blog, we wanted to share the masterpieces talented artists have contributed to our growing gallery. We hope you enjoy these few from our LDS Temple art collection.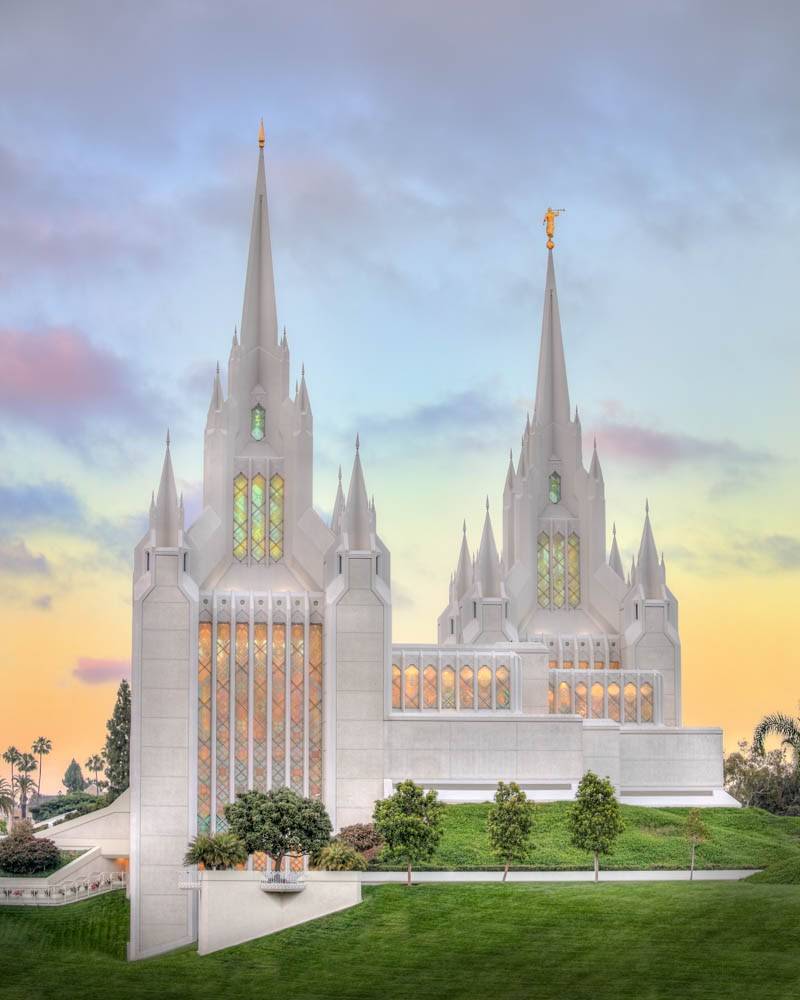 San Diego California Temple - Pastel Sky by Kyle Woodbury