Bountiful Temple Pictures for Every SEason
The Bountiful Utah Temple has a lot of unique history and features that have made it a subject of interest for several of our artists and photographers. It makes up a sizeable section of the temple images in our gallery, which is why we wanted to focus on it in this blog.
Here are a few Bountiful Temple pictures and fun facts for the next time you visit or see a piece of artwork.
It's known for its atrium
The atrium is one of the more unique exterior features of the Bountiful Utah Temple. When you walk up to the temple, a large, circular area greets you, filled with greenery and polished pavement. At its center is a balcony where you can look down on the trees and flowers growing below. Whether or not you enter the temple, that atrium is worth a walk around the grounds.

Its Sister Temple is Mount Timpanogos
Did you know that the Bountiful Temple and the Mount Timpanogos Temple have very similar architecture? They were even dedicated about a year and a half from each other. The Mount Timpanogos Temple doesn't have an atrium, like Bountiful, but both share features, such as the rows of archways and the long, rounded windows.
Think you could spot Bountiful in these temple images, even without the captions?
Here's a hint: Bountiful has more archways.
It has a gorgeous fountain
The fountain is another notable feature our artists and photographers have captured in their Bountiful Temple pictures. To the side of the atrium is a beautiful step fountain tiled in a cheerful blue. The quiet rush of the water and the surrounding greenery make for a peaceful spot to take a break from the noise of everyday life and do as Elder Renlund invited us in the April 2020 General Conference: "Remember each day the greatness of Heavenly Father and Jesus Christ and what They have done for you. Let your consideration of Their goodness more firmly bind your wandering heart to Them."
"Remember each day the greatness of Heavenly Father and Jesus Christ and what They have done for you. Let your consideration of Their goodness more firmly bind your wandering heart to Them."
#47 on the list of dedicated temples
In January of 1995, the Bountiful Utah Temple became number forty-seven on the list of dedicated temples, making it number seven in the state of Utah. An impressive feat, considering that the city Bountiful began with one man and his family wintering down in a dugout. In 1847, Perregrine Sessions wanted a place where he could feed his livestock, so he packed his things and set out to find better land. His venture soon made him the first white man to settle in what is now Davis County.
Ever since that early founding, the city Bountiful quickly became known as the garden spot of Utah. Fitting, then, that we find this inspiring phrase in the dedicatory prayer:
"Bless thy children throughout the world who know hunger, who have no shelter and who face daily suffering. May we who have been blessed with abundance reach out in a spirit of love and true charity to those who yearn for our help."
One of Two dedicated by president hunter
President Howard W. Hunter was the one to give the prayer. It was his second and last temple dedication during his short time as president of the Church, the first being the Orlando Florida Temple. President Hunter himself came from small beginnings as a boy in Idaho and later lived through the Great Depression, which makes the spirit of the dedicatory prayer especially meaningful.
In many ways, President Hunter's words were almost prophetic to challenges that we would be facing decades later: "Today when the family unit is under attack and things long held sacred are often ridiculed by the world, we seek thy help to make us equal to our tasks, that our homes may be havens of peace and happiness. In our families, may we pause to pray and think to thank."
Seasonal Bountiful Temple Pictures
Temples take on a new definition of beautiful for every season. Our artists have captured a variety of seasonal Bountiful Temple pictures. If this is the temple you were married in, we can pair it with your season.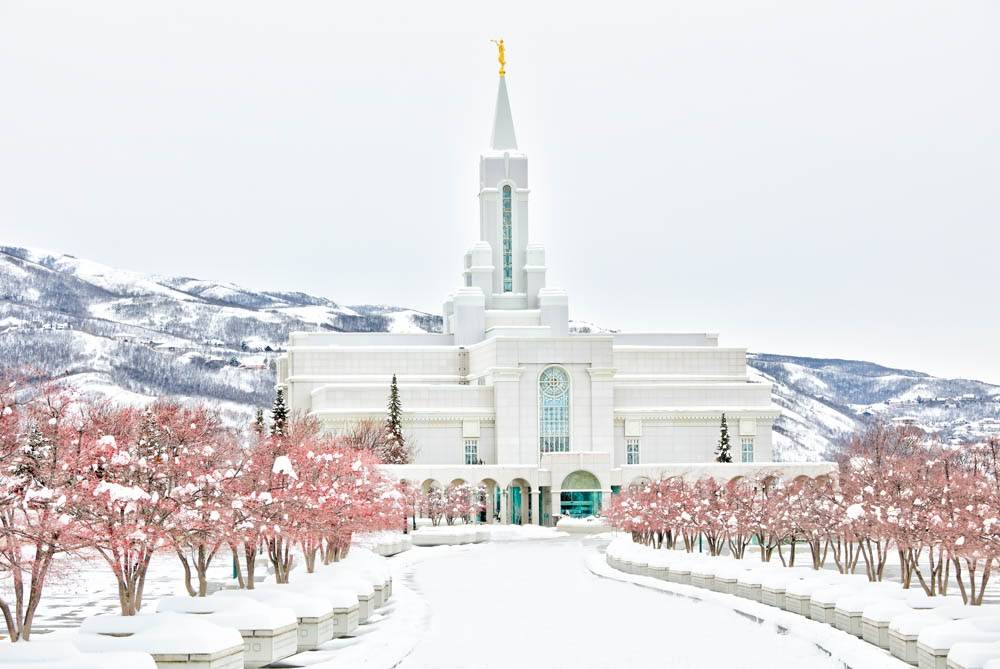 Bountiful Temple - in the snow by kyle woodbury
We have lots of new art coming in - Don't miss out!
And don't worry; we publish art, not spam. In line with many principles of art, we believe good things come in small doses.