Masterworks Reimagined: Jay Bryant Ward
You may be familiar with some of Jay Bryant's previous work. He is well known for paintings like:

If so, you'll be excited to learn that Jay has been taking his energetic artistic talent in a unique direction. Recently, he has been working on masterworks done by the old artistic masters, from British painter Annie Louisa Swynerton to American naturalist Abbott Handerson Thayer with still more to come.
Jay's goal is to breathe fresh life into old classics, now that many of them have been around long enough to be considered public domain. He believes that such magnificent artwork should not be limited to cathedrals or museums but that they should be just as accessible in our homes.
You will notice in each of his reimagining works of art, the colors are brighter. They are more in line with the sort of designs on-trend today, matching popular wall colors and home decor.
More specifically, Jay also seeks to make his new art relevant to a younger audience. With today's steady stream of new and flashy information at our fingertips, it can become easy for older, more timeless matters to become lost. Classic art is no exception. By employing fresh colors, relevant titles, or new painting styles, Jay aims to inspire young people toward something higher--something grander--than the trivial.
Enjoy these first seven of Jay's new masterworks reimagined.
"O That I Were An Angel" - After "Angel" by Abbott Handerson Thayer
Abbot Henderson Thayer's masterwork "Angel" is currently on display at the Smithsonian American Art Museum. The artist himself had a unique way of creating his beautiful colors and textures, using just about anything on hand, well outside of his paintbrush, to get the desired effect.
In Jay's reimagined work, the colors are brighter.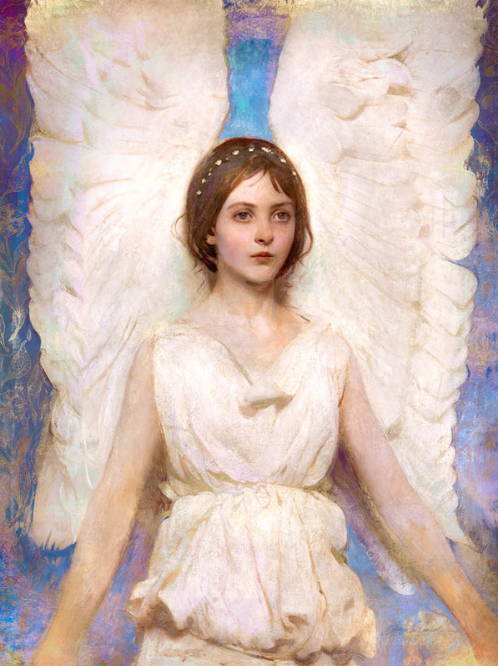 "O That I Were An Angel" by jay bryant ward After "Angel" by Abbott Handerson Thayer
"Hear Him" - After "Sense of Sight" by Annie Louisa Swynerton
Annie Louisa Swynnerton's inspiring masterwork "Sense of Sight" illustrates the wonder and miracle of the ability to see. This may be something many of us take for granted, but Swynnerton's work brings it back into focus in the way that she paints the angel's wide-eyed expression.
As with the previous painting, Jay's reimagined version heightens the overall color palette. For his piece, he also changed the title to "Hear Him", referring to the act of heeding the words of Christ. Just like the sense of sight, Christ's teachings give us a more clear understanding of the world. The wonder and miracle in His words illuminate the mind in a way that we too may feel just as awe-struck as the angel in the painting.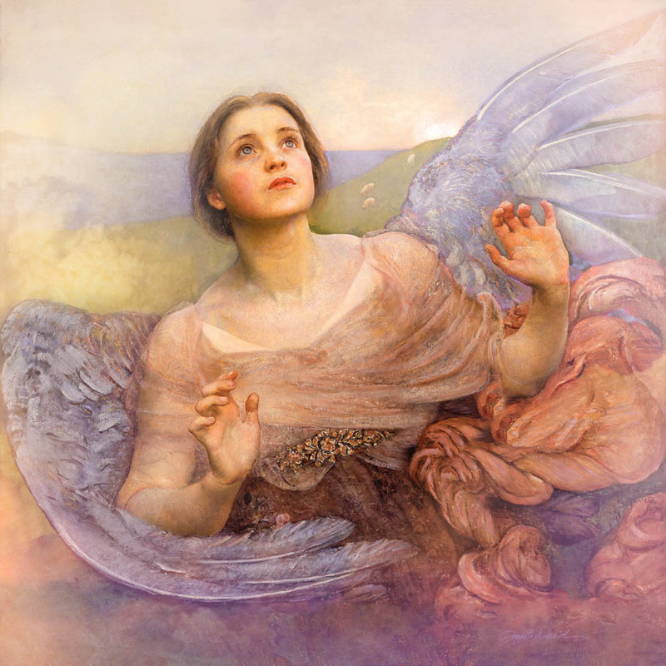 "Hear Him" by Jay Bryant ward After "Sense of Sight" by Annie Louisa Swynerton
Just like the sense of sight, Christ's teachings give us a more clear understanding of the world.
"Christ and Child Watercolor" - After Carl Bloch's "Christ and Child"
Carl Bloch's popular masterwork "Christ and Child" is an elegant reminder of Jesus' teaching about humility. Jesus reminded his listeners to be humble and trusting just like a child. As the Bible reads:
"Whosoever therefore shall humble himself as this little child, the same is greatest in the kingdom of heaven" (Matthew 18:4). Carl Bloch depicts the child as small and even a little shy when compared to the powerful figure of Christ. Yet, in sharp contrast to the world's idea of power, Jesus assures that those who humble themselves become the greatest in the end.
Jay has made many different versions of this impactful scene to capture a variety of skin tones and hair colors of both boys and girls. Using the current minimalist art trend, his reimagined work highlights the trust that all of us, as individual children of God, are of great value to our great Creator.
"Heavenly Peace" - After "Winged Figure" by Abbott Handerson Thayer
This second masterwork by Abbott Henderson Thayer included here, "Winged Figure", is the picture of peace and calm. The woman in the painting sleeps among Heavenly clouds, her face free from stress and care. Thayer seems to touch on what Heaven itself must feel like after facing the trials and troubles of this life. It is true rest.
Jay chose an interesting angle for his reimagined version. He adds an infant sleeping in the angel's arms. The title, "Sleep in Heavenly Peace" harks back to the loved Christmas song, but it also describes the scene perfectly. The individuals in the painting have found belonging and inner calm. Those two things can create something close to a Heaven on Earth.
We would love to hear your thoughts! What do you think of these reimagined works so far?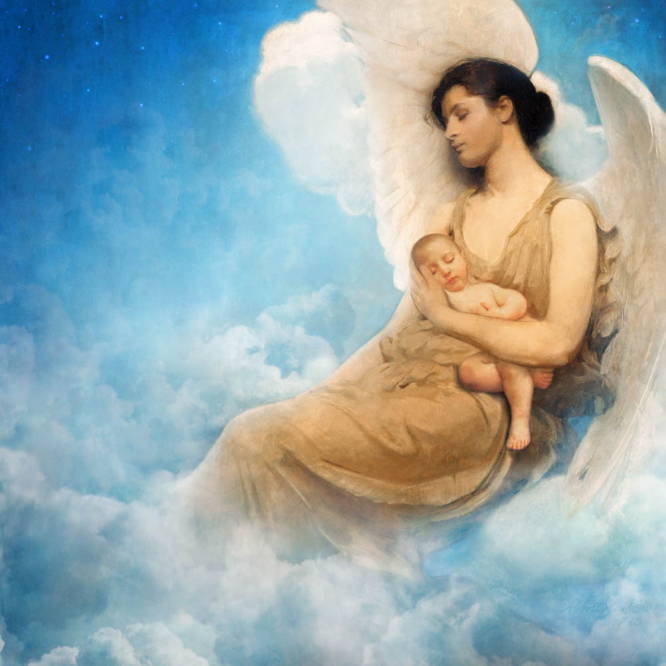 "Heavenly Peace" by Jay Bryant Ward After "Winged Figure" by Abbott Handerson Thayer
"Watercolor Agony in the Garden" after "Agony in the Garden" by Frans Schwartz
The original masterwork by Frans Schwartz, "Agony in the Garden", has a much darker tone. The Savior kneels in the dark, amid deep blue and black paint strokes. The only light in the scene emanates from the angel's halo. This angelic figure, with its enormous wings, offers a protective barrier around Christ who is kneeling in humility. He appears sad and almost frightened. Amid the immense weight of His burden, the Savior of the world in His mortal form appears small. Perhaps that is what makes His victory all the grander.
Jay has taken this piece and added more light to the scene. There are pinks, purples, and golds highlighting the healing power of Christ's suffering. Jay appears to be telling a different story with his reimagined piece: hope. Because of Jesus Christ's atonement, we can receive eternal life. All sorrow will one day be swept away and we can be reunited with loved ones who have passed on.
Have a favorite between this and the original?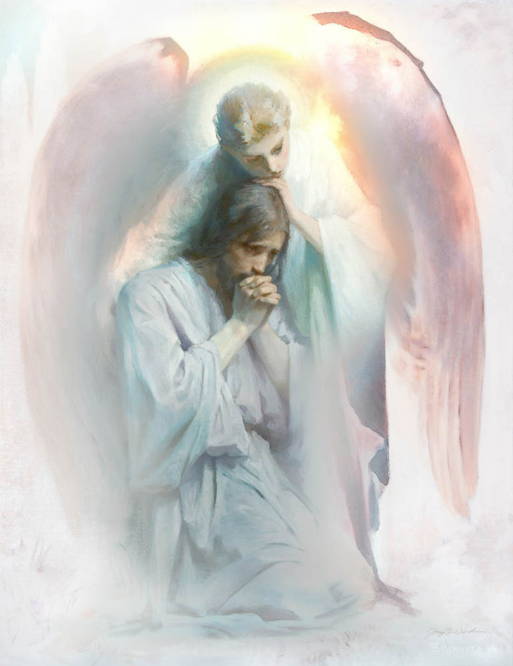 "WATERCOLOR AGONY IN THE GARDEN" by jay bryant ward AFTER "AGONY IN THE GARDEN" BY FRANS SCHWARTZ
Christ Portrait from "Christ and the Rich Young Ruler" by Heinrich Hofmann
This Jesus portrait is part of a larger masterwork by Heinrich Hofmann titled "Christ and the Rich Young Ruler". The original painting portrays Jesus speaking with the young rich ruler we see described in the Bible. His expression is calm and solemn, indicating the importance of His invitation to the young man to change his current lifestyle.

Again, Jay has chosen to illuminate this piece with the gentle colors and textures of watercolor. The effect adds a feeling of peace to the image, reminding us that Christ invites all of us to be our best selves. While we will almost indefinitely face obstacles or even persecution for choosing to follow Him, the peace that He offers exceeds any temporary excitement or happiness that the material world offers.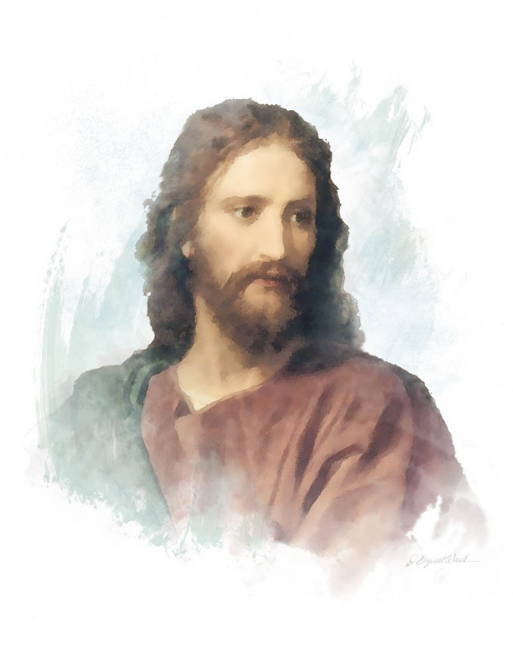 Christ PORTRAIT by Jay Bryant WArd FROM "CHRIST AND THE RICH YOUNG RULER" BY HEINRICH HOFMANN
"CHRIST WALKING ON WATER" AFTER "CHRIST WALKING ON THE WATERS" BY JULIUS VON KLEVER
The original "Christ Walking on the Waters" masterwork by Julius Von Klever captures the fear and hopelessness the apostles felt during the storm. The sky is dark, the waves are chaotic, and the ship is lurching forward at a diagonal angle.
However, Julius' artistic choice of painting the light glowing above Christ's head is what brings the image together. Jesus' posture is calm and collected and He doesn't appear to be in any sort of rush. It's an inspiring take on the scriptural event, reminding us that even when our world feels out of control, our God never is.
Jay has taken this same image and reimagined it in watercolor. The palette is more modern and the colors softer. Jay's piece doesn't focus on the fear of the world's storms as much as the peace and hopes Christ brings into any setting. Jesus Christ is the entire focus. The apostle's boat is barely visible at all, which could be interpreted as Jesus crossing any barriers to come to our rescue.
We love Jay's creative outlook on each of these elegant masterworks. They add both culture, inspiration, and light to any room in a way that does not come off as too heavy or overbearing. Rather, the light colors and textures seem almost dreamlike.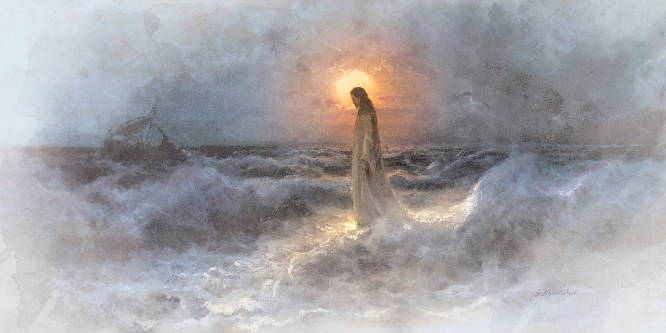 "CHRIST WALKING ON WATER" by Jay Bryant Ward AFTER "CHRIST WALKING ON THE WATERS" BY JULIUS VON KLEVER