A baptism is an important event in a girl's life. It marks the beginning of her journey as a disciple of Jesus Christ and provides an opportunity for her to feel supported by her family, friends, and community.
Here are some ideas to get you started on finding the perfect baptism gifts for girls.
Baptism Gifts for Girls: Artwork
A special piece of artwork serves as a great reminder for children of the good feelings they had on this special day. It can remind them of their commitment to follow Jesus Christ and of the comforting power of the Holy Ghost. You might use your gift of LDS artwork as part of a talk if you are one of the speakers at the baptism. Or you might slip in a meaningful scripture in the gift bag along with the painting. As with art itself, the gift-giving possibilities are as endless as your creativity.

Baptism Gifts for Girls: Puzzles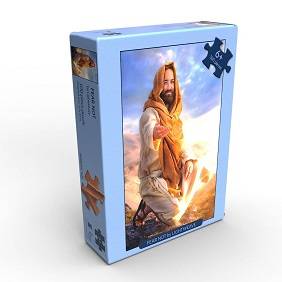 Fear Not 100 Piece Puzzle
This is a warm, encouraging puzzle both in color and message. Artists Kelsy and Jesse said about this piece:
"This mortal world is an experience away from home. We will experience some of our hardest moments of existence while in this place between chaos and order. But we are never alone. Remembering who to call upon in such times can have momentous power over such feelings. Look to Isaiah's promise and fear not, he is with us; be not dismayed. He is our God! He will strengthen us, He will help us, He will uphold us with His right hand of righteousness."
Baptism marks the beginning of the journey of discipleship. Help children and youth remember that they never walk it alone.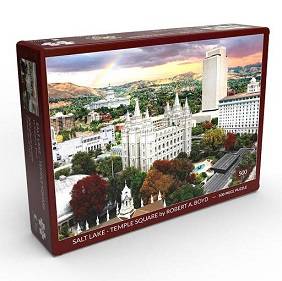 Salt Lake - Temple Square 500 Piece Puzzle
Baptism is only the first step on God's covenant path. This beautiful puzzle gives children time to think about the covenants they will make in the future. It is a perfect Sunday afternoon activity for families. Or you might consider framing it and using it to decorate a girl's room.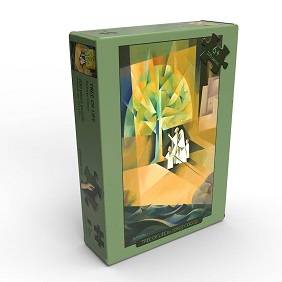 Tree of Life 100 Piece Puzzle
The lifelong journey of following Jesus Christ is not an easy one. Life is a bumpy sometimes even messy ride. Jorge's colorful painting reminds us of the why behind choosing to get baptized. He illustrates the light and healing that comes from Jesus' love and the certainty we can find in staying on the straight and narrow path.

Puzzles are a great family activity and one with an LDS art theme can spark interesting discussions or provide teaching moments with children. Jorge's work can give your little girl a visual idea of the joy she will find in deciding to be baptised and keep her promises with God.

"This mortal world is an experience away from home. We will experience some of our hardest moments of existence while in this place between chaos and order. But we are never alone."
Baptism Gifts for Girls: Posters
Children and teens live in a busy world full of a dizzying amount of information. A poster makes for a daily, quiet reminder of what matters most. Posters are perfect baptism gifts for girls because they add both beauty and a sense of meaning to everyday life. Many of the posters done by our LDS artists depict important aspects of gospel living and illustrate Jesus Christ's love for His daughters.

Baptism Gifts for Girls: Minicards
Baptism gifts for girls don't get much more versatile than a pack of mini cards. Each card not only illustrates a story, but it also includes an insight or scripture. They help enhance primary talks, family home evening lessons, decorating journals, giving to friends, and keeping hands busy during sacrament meetings.
Choose a colorful mini card pack that will inspire and comfort a little girl on this special day.
Simon Dewey is known for his prolific collection of beautiful LDS art. In this mini card pack, we have selected some of the best of his paintings depicting Jesus with children. It also includes some illustrations of vital stories in the scriptures, such as Christ initiating the sacrament and calming the storm.
Help these events come to life for a child your youth with these fun-sized masterpieces and accompanying scripture verses.
While these pictures are not as child-focused as the previous mini-card pack, it carries theme applicable to anyone making important covenants. The journey of discipleship is a journey of learning. We make covenants because we are worthy, not because we are fully developed. This baptism gift for girls can remind them where to find the truth.
Baptism Gifts for Girls: Bookmarks
Shopping for a girl that likes to read? We have plenty of bookmarks! They make great baptism gifts for girls because they pair well with a new set of scriptures, which is a common gift at baptism. They also serve as a daily reminder of their decision to follow Jesus. Find the perfect bookmark she can take to her scripture studies or on her next literary adventure.

We have lots of new art coming in - Don't miss out!
And don't worry; we publish art, not spam. In line with many principles of art, we believe good things come in small doses.